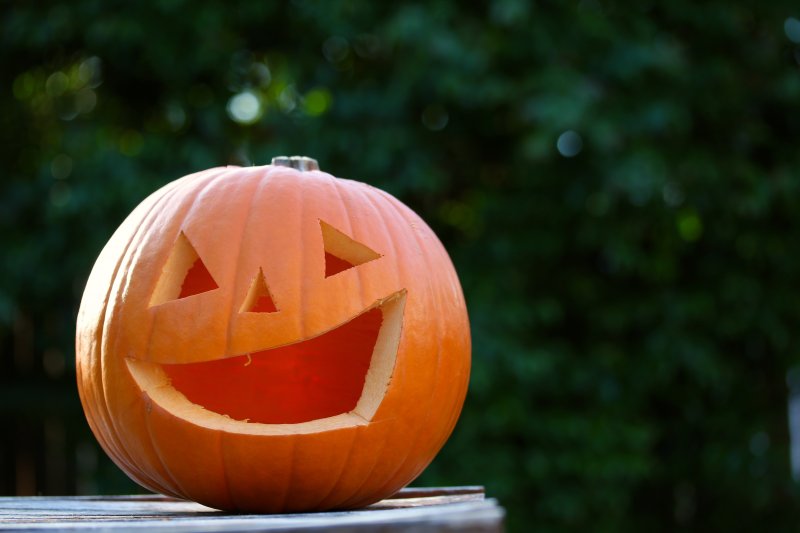 Invisalign is an orthodontic method that can realign a smile without the conspicuous hardware or eating restrictions that come with traditional metal braces. This is great for the Halloween season, as braces can detract from how much terror you can elicit with your carefully constructed vampire costume. However, patients will still need to stay on top of their treatments during all the spooky revelry. Here's a brief survival guide for celebrating Halloween while wearing Invisalign clear aligners.
How Can I Celebrate Halloween with Invisalign?
Invisalign realigns smiles by providing patients with a sequence of clear aligners. Each set is specially designed to move the teeth into a slightly better position and must be worn for at least twenty-two hours every day while being removed for eating, oral hygiene, and drinking anything but water.
These clear aligners are precisely engineered, and a single piece of candy stuck in the teeth can throw off the alignment process. To make matters worse, food debris stuck between the aligners and the teeth can be protected from the mouth's natural cleaning process, allowing bacteria to multiply and feed on your enamel without interruption. This is why it is so crucial to remove your aligners when eating or drinking non-water beverages and to clean your teeth before you put them back in place. A few tips for enjoying your Halloween candy with Invisalign include:
Keep your candy consumption around mealtimes
Saliva is your smile's first line of defense against damage and tooth decay, and your mouth steps up production of it when you eat a meal. If you eat your candy at mealtimes, this extra saliva will help clean it away before it can do much harm.
Skip snacking on candy between meals
Invisalign clear aligners need to be worn for twenty-two hours a day. Since you'll need to wait thirty minutes after snacking before you can put your aligners back on your teeth, this can really cut into how long you wear them every day.
Hard candy isn't so dandy
Hard candies like butterscotch disks and the like are designed to dissolve in the mouth. While this can eat up a lot of the time that you are supposed to be wearing your aligners, this can also coat your teeth in a bacteria-feeding sugary residue.
There's no better beverage than water
Water is the best beverage for your dental health because it washes away food debris and bacteria that contribute to tooth decay and gum disease. Having a tall, refreshing glass of water can help clean up after that last piece of candy you enjoyed.
There's no reason to fear missing out on the Halloween season when you're wearing Invisalign. With these tips and an excellent oral hygiene routine, you can keep your treatment on track and tooth decay too scared to knock on your door.
About the Author
Dr. Dalia Georgy earned her dental doctorate at the University of Oklahoma and has since accrued over 200 continuing education credits. She has undergone extensive specialty training in Invisalign and proudly serves as a member of the American Dental Association, the Oklahoma Dental Association, and the Academy of General Dentistry. Areas of expertise include traditional and emergency orthodontics in addition to Invisalign treatments. For more information on having your Halloween fun while wearing Invisalign, contact her office in Glenpool, OK online or dial (918) 201-1414.