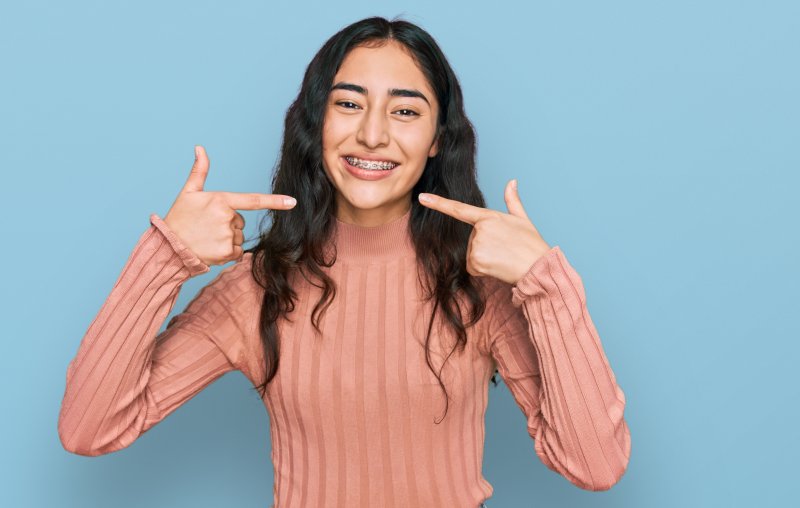 If you're new to traditional braces and are experiencing discomfort, you're not alone. It's common for there to be an adjustment period for the week after. Don't worry – any discomfort is temporary! Your treatment should be easier after the first seven to ten days. Here's all you need to know about what you should and shouldn't eat and how to manage your discomfort in a guide to surviving your first week with braces.
What You Should and Shouldn't Eat with Braces
Having new solid materials like wires, brackets, and prongs in your mouth takes some time to get used to. During your first few days with braces, it's crucial that you eat the right foods to prevent damage and help with your soreness. The glue used to attach the brackets needs time to bond properly, and you can loosen or damage them if you're not careful.
Eating and chewing is different with braces, so your food habits may change as well. In your first week, you should stick to a softer diet. Feel free to enjoy your favorite soups and smoothies! Other examples of soft foods you can eat even beyond the first week that shouldn't damage your braces are scrambled eggs, mashed potatoes, oatmeal, rice, yogurt, and applesauce.
On the flip side, you should avoid hard or sticky foods, especially in that first week. No more popcorn, nuts, or hard or sticky candies! Steer clear of foods that can damage your teeth or braces or that might be too hard to clean later. Hard and crunchy foods can loosen or break your brackets. Sticky foods are harder to clean off your teeth when you have braces. If you can't properly clean off food debris or sugars, you'll be at risk for plaque and bacteria buildup. This can lead to tooth decay or gum disease.
How to Manage Your Discomfort
Here are the best practices to care for your mouth and ease any discomfort you might feel within the first week or so of having braces:
Dental wax is your best friend. You can use dental wax to prevent gum tissue irritation and fight sores. After about a week or so, your mouth should get used to your braces as callouses form on the soft tissue in your mouth, but until then, you can minimize discomfort with wax.
Rinse with warm salt water. This can reduce inflammation and puffiness. Add half a teaspoon of salt to one cup of warm water. Swish this around your mouth five to six times a day for pain relief and faster healing.
Gentle but thorough oral hygiene. Make sure you're maintaining your usual oral hygiene routine, but with braces, it might require some modification. Brush and floss your teeth twice a day as per usual, but consider switching to an angled toothbrush to alleviate some discomfort and clean food particles stuck in your brackets.
About the Author
Dr. Dalia Georgy of Glenpool Braces has been practicing dentistry and orthodontics for more than seven years. Her practice offers a comprehensive range of orthodontic services and stays up-to-date with the most innovative technology available in the industry. If you're ready to start your braces journey, contact Dr. Georgy through her website or by phone at (918) 201-1414.