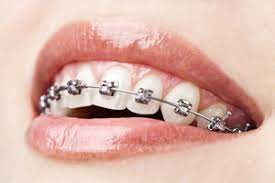 Braces have proven to be a dependable orthodontic solution, effectively transforming the smiles of many generations and promoting oral health. If you have previously worn braces, you are familiar with the experience of having metal brackets and wires, which ultimately resulted in a stunning new smile. However, certain patients may need a second round of orthodontic treatment. There are various reasons why this need may arise, so continue reading to discover what they are.
Why Would I Need to Wear Braces Again?
There are various reasons why a second round of orthodontic treatment may be necessary, and one common factor is known as "relapse." It is crucial to follow the instructions for wearing your retainer after completing braces to keep your pearly whites from shifting back to their original locations.
Adhering to the recommended retainer routine diligently plays a significant role in preserving the results achieved through the initial orthodontic treatment. Even after completing orthodontic treatment, it is possible for gradual changes in tooth alignment to occur. Several factors can contribute to these changes, including spacing issues, bite problems, crowding, bruxism (teeth grinding), and oral habits like tongue thrusting and nail biting.
These factors can influence the position of your teeth, potentially necessitating a second round of orthodontic treatment to address the evolving alignment issues. It Undergoing a second round of orthodontic treatment is completely safe, and your orthodontist will closely monitor and track your progress, ensure the safe realignment of your smile, and address any concerns that may arise.
3 Benefits of Wearing Braces Twice
Needing braces again should not be a source of discouragement. While it may be necessary to further refine your teeth alignment, undergoing a second round of orthodontic treatment offers several advantages, such as:
Future stability – Opting for a second round of braces proactively prevents potential complications and contributes to the maintenance of the stable results attained through your initial orthodontic treatment. This commitment plays a vital role in ensuring ongoing orthodontic success and promoting a straight, healthy smile.
You're further improving the aesthetics of your smile – Straightening teeth that have shifted or addressing other dental concerns enhances your appearance and boosts your confidence.
Enhanced oral functionality – By choosing to undergo braces again, you place a priority on the functionality of your mouth, which leads to improved eating, speaking, and teeth cleaning abilities. This decision not only enhances the appearance of your smile but also contributes to its optimal functionality.
As someone who has undergone orthodontic treatment before, you understand the importance of wearing a retainer after the removal of braces. It is not uncommon to require a second round of braces, but it can be a highly effective way to realign your smile and get it back on the right track!
About the Practice
Do you have concerns about enjoying the wide array of holiday foods without causing any issues with your braces? Look no further than Glenpool Braces! They specialize in a range of dental services, including general, cosmetic, restorative, and emergency procedures. Additionally, they offer orthodontic treatments like braces to address concerns such as gaps, alignment problems, and crooked teeth. If you're interested in scheduling an appointment with Glenpool Braces or have any inquiries regarding their orthodontic services, simply give their office a call at (918) 201-1414 or visit their website.