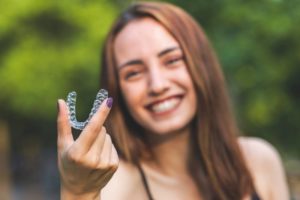 Millions of smiles have been straightened without the metal brackets and wires of traditional braces. Yes, that's right…Invisalign has changed the game of orthodontics! No longer do people have to live with their crooked teeth or avoid showing their metal braces. By wearing a series of clear aligners, your teeth can be moved into their desired position without virtually anyone noticing. But what if you have noticed your aligners have recently turned yellow? Read on to learn the causes of the discoloration and what you can do to return to undetectable orthodontic treatment with Invisalign.
What Causes Aligners to Turn Yellow?
While your clear aligners are incredibly durable and reliable, they can become discolored. The most common causes of yellow aligners are:
Foods & Drinks
In addition to being very discreet, another benefit of Invisalign treatment is that there are no dietary restrictions. You may continue to enjoy your favorite foods and beverages as long as you remove your aligners every time you eat or drink anything other than water. However, if you begin to become relaxed with this requirement, you risk your aligners becoming stained, especially by darkly pigmented foods and drinks like coffee, wine, berries, and tomato-based sauces.
Saliva
While saliva is essential to your oral health due to the fact it washes away harmful bacteria and food debris, it can stain your aligners. The proteins, minerals, and other substances in saliva can stain your trays if they are not washed off when you remove them. The saliva dries and can cause discoloration.
Bacteria & Plaque
Even if you are very consistent with your dental routine, there will always be some bacteria and plaque on your teeth. These can stain your aligners. However, it is more likely if you are not regularly brushing and flossing your teeth.
Helpful Tips to Keep Aligners Clear
The good news is you can prevent your aligners from becoming yellow. You can even reverse the discoloration and keep your aligners clear with these helpful tips:
Clean the Aligners Thoroughly: Be sure to rinse your trays with water or give them a quick brush every time you remove them. It's best to use a soft-bristled toothbrush and non-staining toothpaste.
Remove the Aligners for Meals: It's essential to remove your trays before eating or drinking anything other than room-temperature water, which won't harm the aligners.
Store the Aligners Properly: Store your trays in the proper case when you aren't wearing them to keep them free from exposure to bacteria.
Switch to New Aligners: If your current aligners are very yellow, you can contact your dentist to see if it's possible to switch to a new set of trays.
By being aware of the factors that cause yellow Invisalign aligners, you can do your best to keep them in their best condition. With these helpful tips, your smile can remain healthy and clear as you journey toward straighter teeth!
About the Author
Dr. Dalia Georgy and her team at Glenpool Braces are eager to help you achieve a more aligned smile. She received her doctorate at the University of Oklahoma and is an active member of several dental associations, including the American Ornithological Society. With extensive specialty training in Invisalign and other orthodontic treatments, her passion is to fix your teeth and make them as beautiful as possible! To schedule an appointment, contact her through her website or call (918) 201-1414.