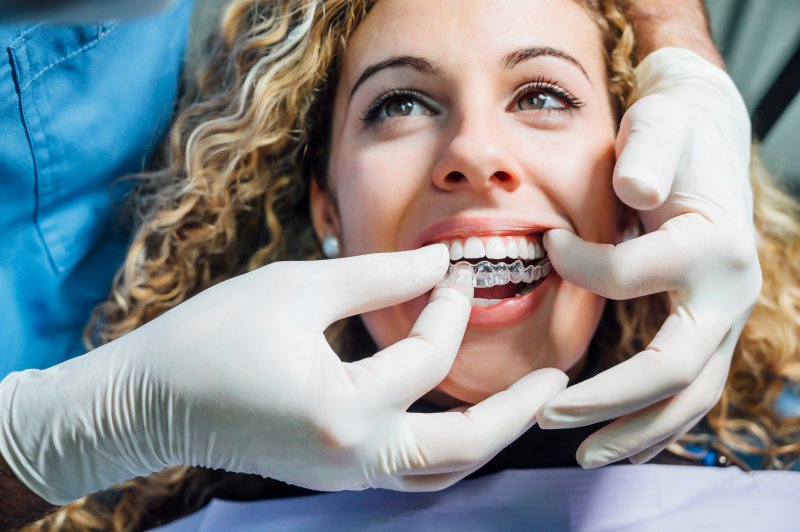 Invisalign aligners are a marvel of modern orthodontics, capable of giving patients results comparable to traditional braces discreetly, and often in less time. They're also removable, meaning that you can skirt many of the dietary restrictions that come with traditional braces.
However, as well designed as Invisalign aligners are, you might find that yours don't fit very well when you first get them. Here are a few reasons why that may be the case, and what you might want to do about that.
How is an Invisalign Aligner Supposed to Fit?
Before you decide whether your Invisalign fits properly, you should probably know how it ought to fit in the first place. In order to move your teeth, your aligners need to put enough pressure on them to nudge them around. As such, they need to fit fairly tightly over your teeth.
However, they also need to contain your teeth after they finish moving around, so your trays will often contain some small gaps for your teeth to move into.
Does My Aligner Fit Poorly?
Your aligner should fit as described above, which means that it's definitely possible that your trays could be uncomfortable when you first get them. It's also possible that your aligners could be difficult to seat, with the front teeth popping off as your press down on the molars, and vis versa. These problems should ease up after a few days.
However, if you find that your aligner doesn't seat on the teeth at all, is visibly warped, or if discomfort persists for longer than a week or so, that could be a sign that there's a more serious problem.
What to Do if Your Aligner Doesn't Fit
If your aligner seems to be within the normal range of "doesn't fit," it may be worth waiting for a few days to see if it gets better. Wear your aligner for the recommended 20-22 hours a day, and make use of Invisalign chewies to seat your aligners.
If you think that your aligner has serious problems, contact your dentist. They'll be able to order you a replacement if necessary, or just move you up to the next stage if that seems appropriate.
About the Author
Dr. Dalia Georgy is an orthodontist who loves nothing more than being able to get to know her patients on a personal level, and to see the smile on their faces when they see the result of their orthodontic treatment. Dr. Georgy received her doctorate from the University of Oklahoma and has received over 200 hours of continuing education in braces, Invisalign, and Myobrace treatment since.
If you have any questions about Invisalign aligners, she can be reached at her website or by phone at (918) 201-1414.