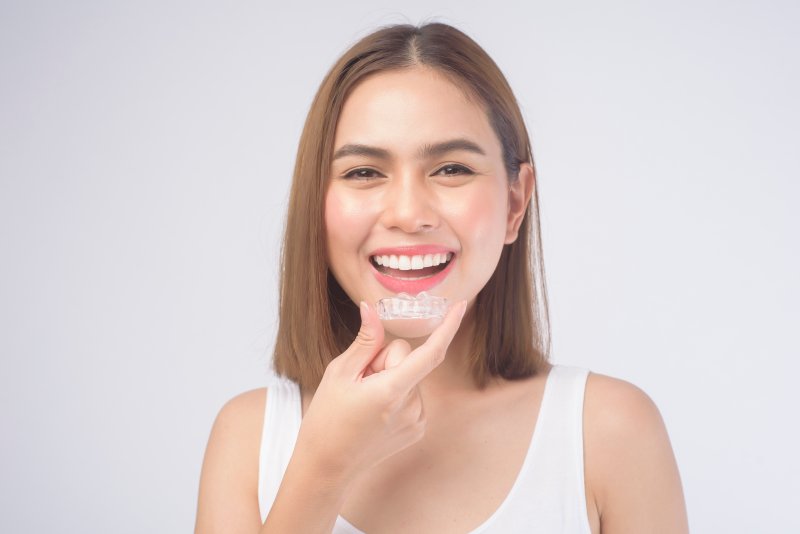 Invisalign is one of the most popular orthodontic treatments. They offer the same results as traditional braces, but without the dietary restrictions or the metal brackets.
However, millions of Americans also grind their teeth at night, also known as sleep bruxism. They may wonder if that habit could interfere with their Invisalign treatment. If you're curious, here's what you ought to know about that.
Will Bruxism Stop Me from Getting Invisalign Treatment?
When you get your aligners, you're going to have to wear them as much as possible, for 20-22 hours a day. That means wearing them while you sleep. If you grind your teeth, your aligners will probably have to bear the brunt of that to some extent.
That said, bruxism in itself won't necessarily prevent you from getting Invisalign treatment. So long as your teeth aren't cracked or chipped, you should be fine.
However, if you're currently undergoing treatment for bruxism involving a night guard or splint, you won't be able to use them while wearing your aligner. You'll have to talk to your dentist about whether you should put your treatment on hold.
Will Bruxism Damage My Aligner?
Your aligners aren't immune to being affected by grinding teeth. While they are made of a durable plastic, intense pressure from sleep bruxism can potentially cause them to degrade faster.
However, you won't really ever have to wear an aligner for any longer than two weeks. That being the case, there's no real reason to worry about your aligner degrading. Most providers won't charge you for replacements either, so as long as the replacements come quickly it won't affect your long-term treatment.
Risk Factors for Bruxism
That said, it may not be a bad idea to address some of the underlying risk factors of bruxism before beginning Invisalign treatment. For example…
Stress
Nicotine
Caffeine
Alcohol
…have all been associated with an increased risk of bruxism. By cutting back on some of these, you can protect your future aligners and see treatment progress as smoothly as possible.
About the Author
Dr. Dalia Georgy is an orthodontist who loves getting to know her patients on a personal level. Getting braces can be quite a journey, and she prides herself on sticking by her patients every step of the way. Dr. Georgy received her doctorate from the University of Oklahoma, and she has completed over 200 hours of continuing education, including specialty training in Invisalign and Myobrace treatment.
If you have any questions about Invisalign and bruxism, she can be reached at her website or by phone at (918) 201-1414.