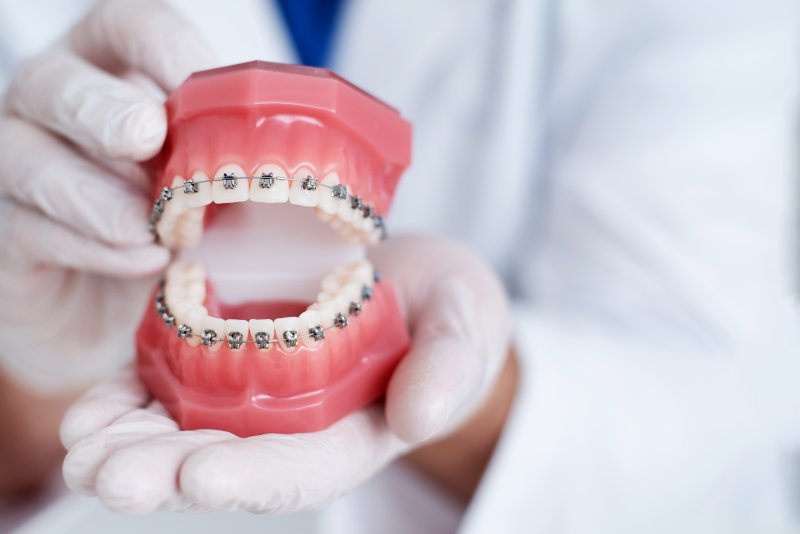 When you first get your braces, there are quite a few things that will take some getting used to. You may be adapting to using dental wax, or to brushing on either side of your brackets.
You may also be noticing a strange sensation—one of your teeth feeling like they're floating in your mouth. It may almost seem like your teeth could come out! As it turns out, that's completely normal. Here's why you could be feeling that way, and why you don't have to be concerned.
Why Do Braces Make My Teeth Feel Loose?
Before you got your braces, your dentist probably had you wear "spacers" to allow your teeth to become more mobile. What that means in practical terms is that the ligaments that connect your teeth to your gums have to stretch, allowing your teeth to move.
Note that "stretching" isn't the same thing as "breaking;" while your teeth may feel a little loose, there isn't any real risk of them coming out. Once you get your braces off, your teeth will settle into place and the ligament will again become inflexible. Until then, however, you're going to have to deal with that floating sensation.
How To Maintain Braces
While your braces in themselves may not necessarily loosen your teeth, there are aspects of wearing them that can. Braces can be a little hard to take care of at first, and if you allow your oral health to get away from you, you can develop gum disease that can eventually cause you to lose your teeth.
If you want to avoid that, taking proper care of your braces is critically important. For one, you ought to brush your teeth at least twice a day, but ideally after every meal. Flossing is also incredibly important but, as you're quickly discovering, a little difficult to do with braces. If you aren't a fan of using floss threaders, you can try using interdental brushes or a WaterPik to make cleaning between your teeth a little easier.
Finally, make sure to see your dentist often. You'll have to see them for tightening, but they'll also make sure that you aren't dealing with gum disease or other issues.
About the Author
Dr. Dalia Georgy has been offering her patients the best dentistry and orthodontic services possible for seven years, and in that time, she's loved nothing more than forming strong personal relationships with her patients. Dr. Georgy received her doctorate from the University of Oklahoma. She's also undergone over 200 hours of continuing education since, including advanced training in Invisalign and Myobrace treatment.
If you have any questions about how braces will make your teeth feel, she can be reached at her website or by phone at (918) 201-1414.