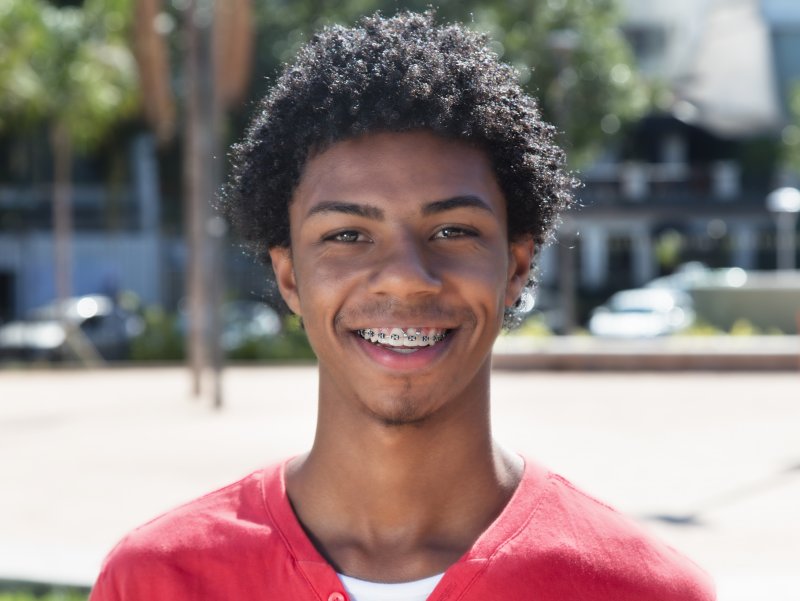 If you're getting braces soon, you might not be excited about the way your teeth are going to look for the next year or so. But what if your braces could make your teeth actually look better? Not just when you get them off, but while you're wearing them?
When you get traditional wire braces, you get to choose the color of bands you pick, and picking the right color can give you the appearance of having whiter teeth. Here are some of the most common rubber band colors, and how they'll affect the appearance of your smile.
Dark Bands
The best way to make your teeth whiter is to use darker color rubber bands for your braces. Dark green, navy blue, purple, or even black bands can provide a strong contrast with your teeth, making them look lighter by comparison.
That said, it's worth mentioning that some colors are a tough pick for braces in general. Dark green or brown bands might look like food, which at a glance can make it seem like you aren't caring for your oral appliance.
White Bands
These tend to be a bad idea if you care about the apparent color of your teeth. Bright white bands have the same effect on your teeth as holding a tissue up next to your smile; the contrast will make even fairly well-kept teeth look yellow.
Gold/Yellow Bands
From a distance, your braces bands can sometimes blend into the color of your teeth. With high-contrast black or blue bands that's not much of a problem, but yellow or gold bands can make it look like your teeth are that color.
Clear or Silver Bands
These are a safe pick for just about anyone; both of them just make your braces look a little bit larger than they are, covering up your teeth. If you have a yellowish smile, these can obscure that fact.
As you can see, there are quite a few ways to customize your braces, many of which can make you look better than your teeth did before. And of course, once the braces come off, that transformation will be all the more remarkable.
About the Author
Dr. Dalia Georgy has been providing her community with excellent oral health for the past seven years, and her favorite part of her job is the relationships formed with her patients. That makes the smile on their faces when the braces come off even more satisfying. Dr. Georgy received her doctorate from the University of Oklahoma, and she has undergone extensive research in braces, Invisalign, and Myobrace treatment.
If you have any questions about how to wear your braces with style, she can be reached at her website or by phone at (918) 201-1414.