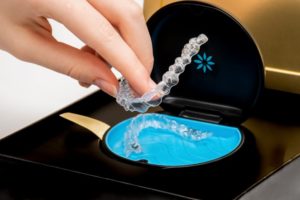 Modern technology has made it more convenient than ever to get things you want—including your dream smile! Invisalign treatment has changed the game for those who don't want to wear traditional metal braces. With their clear, removable aligners, the process toward straighter teeth is discreet, comfortable, and effective. However, it does require that you stick to your treatment plan so your pearly whites can move into their desired position on time. Here are three things to avoid with Invisalign to stay on track with your treatment!
#1: Not Wearing Your Aligners for 20-22 Hours a Day
One of the biggest appeals of Invisalign is that your aligners are completely removable. This allows you to not only enjoy all your favorite foods but also be more comfortable. You don't have to worry about getting the mouth sores that can occur from the metal wires and brackets from braces. Additionally, the ability to take out your aligners allows you to easily maintain good oral health.
Unfortunately, their removability can make it easy to forget to put them back in or tempting to go for prolonged periods without them. For your pearly whites to become straighter, you must wear your aligners for no less than 22 hours. Failing to do this can setback your timeline drastically, which can cost you more money. Be sure to only remove your clear aligners when necessary.
#2: Neglecting to Properly Store Your Aligners
If you are being diligent in wearing your aligners for the required time, you will most likely only remove them when you are eating or cleaning your teeth. You will want to make sure to make it a priority to properly store them in their storage case whenever you take them out. You don't want to risk accidentally breaking, losing, or throwing away your trays. This could result in delayed progress and extend the length of time of your treatment.
#3: Not Caring for Your Aligners Properly
Invisalign trays are made up of high-quality, dental-grade plastic. While they are very durable, they aren't indestructible. They can still become damaged or warped from doing things like washing them with hot water. Using non-recommended cleaning solutions can also be detrimental to their structure, making them unwearable for your treatment. By practicing proper care, including brushing and rinsing them daily, you can keep them safe and in pristine condition.
By being mindful of the things not to do during your Invisalign treatment, you are ensuring successful treatment. You will soon be flashing your straighter smile, thanks to being diligent and consistent with your Invisalign plan!
About the Author
Dr. Dalia Georgy and her team at Glenpool Braces are eager to help you achieve a more aligned smile. She received her doctorate at the University of Oklahoma and is an active member of several dental associations, including the American Ornithological Society. With extensive specialty training in Invisalign and other orthodontic treatments, her passion is to fix your teeth and make them as beautiful as possible! To schedule an appointment, contact her through her website or call (918) 201-1414.