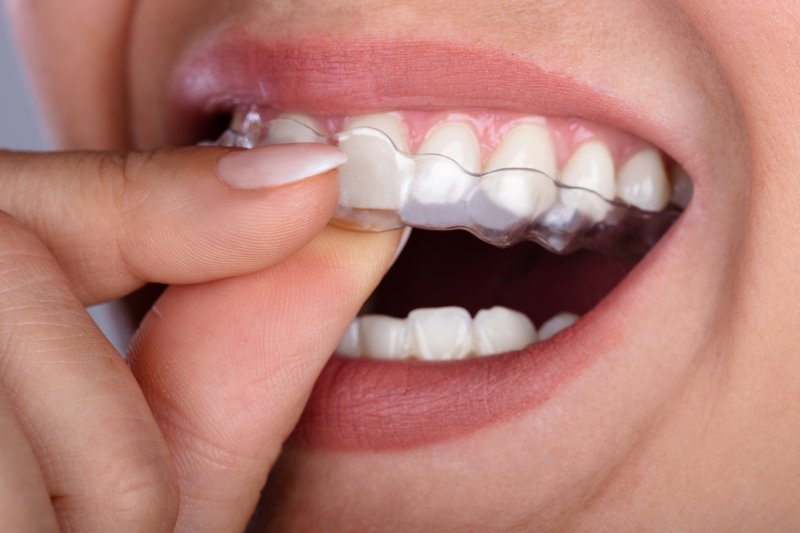 If you've lost your retainer (or just haven't worn it in a while) it's possible that your teeth have returned to their original positions. Invisalign aligners are incredibly popular among people who've had braces in the past, but who may need to have their teeth realigned. However, even if you've had some experience with orthodontic treatment, there are some quirks unique to Invisalign that you ought to be aware of. Here are a few things you ought to know before starting Invisalign treatment.
#1: Coffee Habits May Change
When you get your aligner, your goal should be to wear them as often as possible. You'll take them out to eat and clean them, but you should still aim to wear your aligners for 22 hours a day. However, you should also avoid having any colored drinks while you're wearing your Invisalign. If you're someone who drinks coffee all day every day, or if you sip red wine for hours at a time, that may have to change. If you need your caffeine fix, you might want to switch to espresso or another type of coffee that you can drink much faster.
#2: Cleaning Takes Commitment
Just like with braces, your aligners are going to require a fair amount of cleaning to stay sanitary. You'll have to brush and floss every time you eat before you replace your retainer, and that can start to add up. If you're starting Invisalign treatment soon, it's worth investing now in a travel dental kit that might make maintenance easier.
#3: Invisalign Lisp (Don't Worry – It's Temporary)
You may not always realize it, but your teeth are deeply important to the way you talk. That's why your Invisalign aligners might give you a little bit of a lisp at first. Thankfully, you'll be able to take out your aligner before big pitches and presentations when good diction is most important. Plus, the large majority of patients don't experience any changes to their speaking patterns at all!
#4: It's Tight on your Teeth
As with any orthodontic treatment, there's going to be a little bit of discomfort when you first get your aligners. The soreness doesn't compare to what you'd experience with braces, but it's a good idea to stock up on ibuprofen before you start the treatment. The discomfort should fade after a few weeks when your teeth are used to moving.
Taking care of your Invisalign will take a little bit of getting used to. But after the first month or so, you'll appreciate how much more convenient aligners are than traditional braces, and how good your teeth are going to look.
About the Author
Dr. Dalia Georgy has been practicing orthodontics for around seven years. She loves being able to have warm, personal interactions with her patients—it makes seeing the results of her work all the more satisfying! Dr. Georgy received her doctorate from the University of Oklahoma, and she has undergone over 200 hours of continuing education since. She's also a certified Silver Invisalign provider. If you have any questions about Invisalign, she can be reached at her website or by phone at (918) 201-1414.