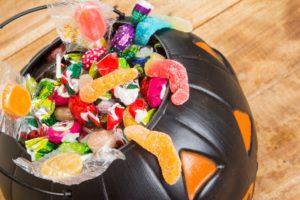 For many children, the scariest part of Halloween tends to be the witches and ghosts. For parents, however, wondering what type of candy and how much of it their kids are eating is what sends shivers down their spine. There are certain varieties of candy you want your child to avoid so they don't end up with a mouth full of cavities after Halloween in Glenpool. Read on to learn from your dentist about some name-brand candies that are bad news for a child's oral health, as well as some specific candies that are at least the lesser of two evils for their teeth.
What Halloween Candies Should You Be Most Worried About Your Child Eating?
When your child is sorting through their candy on Halloween night, here are some cavity-causing brands to look out for:
Sour Patch Kids: All sour candies contain a lot of acids, which produce a highly toxic environment for your teeth. The acid byproduct created by simple sugars deteriorates tooth enamel.
Starburst: Chewy candies stay in your mouth for a long time, so the sugar sticks in your teeth. Even when you've finished a Starburst, pieces can linger for 10-15 minutes.
Tootsie Pops: This "treat" takes all the negatives of hard candy and adds the high-sugar content of the chocolate inside. The hard exterior is the main problem since it will linger on teeth.
Jolly Ranchers: If you try to chew a Jolly Rancher, it can damage your teeth. If you suck on it, you prolong the process of feeding simple sugars to the bacteria in your mouth.
M&Ms: They offer a double threat of sugar and chocolate. The shell is simple sugar, while the milk chocolate delivers a second helping of sugar content.
Here Are Some Halloween Candies That Aren't as Bad as You Think
Not to say these junk-food options are "good" for your child on Halloween, but they are not as scary as the options in the previous section.
Almond Joy: The almonds have protein to keep you full and prevent you from eating this candy endlessly. Almond Joy has a relatively low eight grams of sugar.
Justin's Dark Chocolate Peanut Butter Cups: Somewhat like Reese's, these peanut butter cups have a nutritionist-approved ingredient list including organic dark chocolate and organic peanuts.
Kit Kat: Due to the crunchy center, one two-piece bar has only 70 calories and nine grams of sugar.
Snickers Miniatures: Two of these minis offer some peanut protein and nine grams of sugar.
Twizzlers: The only fruity candy you'll see in this section, they have just 0.5 grams of fat and nine grams of sugar. Brushing or flossing afterward is important since this is a chewy candy.
While candy is not going to be something you want to encourage your little superhero or princess to consume in excess this Halloween, there are varieties that pose less of a threat to their teeth. No matter what, be sure to have them brush and floss on Halloween night and the following days as they work through their trick-or-treat treasure trove!
About the Author
Dr. Dalia Georgy earned her dental doctorate from the University of Oklahoma. She has undergone extensive specialty training for braces, Invisalign, and Myobrace treatment. Dr. Georgy is a member of the American Dental Association and the Academy of General Dentistry. To avoid cavities after Halloween in Glenpool, she'll be happy to share tips to protect your child's braces and other orthodontic appliances. You can schedule a consultation on her website or call (918) 201-1414.