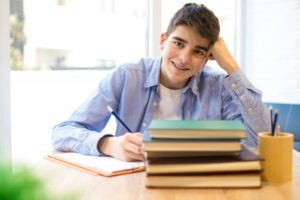 An emergency is never convenient, and it's usually unexpected too. On that note, one of the biggest inconveniences you can experience if you have braces is an orthodontic emergency. Whether it's a broken wire or bracket, a lost retainer, painful mouth sores, or some other type of oral injury, these situations can be alarming; after all, the state of your smile is on the line! Fortunately, orthodontic emergencies in Glenpool can easily be avoided with a bit of knowledge and foresight. Check out some helpful tips from a children's dentist to prevent emergencies and keep your treatment progress on schedule.
Practice Sports Safety
Having braces doesn't mean that participating in sports is off-limits, but you should take some extra precautions. While sports-related injuries to the mouth and jaw are common, a simple mouthguard can offer an immense amount of protection during sports and physical activity. These handy devices protect your whole mouth by redistributing the force of impact across all your teeth, rather than just the point of contact. This means that your teeth and orthodontics alike are well-protected.
Keep Your Mouth Clean
Perhaps the most important way to avoid orthodontic emergencies is by practicing good oral hygiene – having braces does not exempt you from brushing and flossing! It's even easier for food particles to become trapped inside your mouth if you have braces which means that you're more susceptible to tooth decay, cavities, and other serious health problems that could escalate to an emergency.
Watch What You Eat
Several foods pose a serious threat to orthodontic treatment. Most patients wear braces for two years on average, and during that period, all sticky, chewy, crunchy, and particularly hard foods should be avoided. It might seem tough to give up things like popcorn and bubblegum for such a long time, but the damage these items can cause to your braces is quite severe and is something you should try to avoid.
Manage Your Discomfort Accordingly
It's normal to feel some discomfort throughout your orthodontic treatment; after all, your teeth are being shifted around your mouth! This discomfort is especially apparent immediately after starting treatment. However, you can often manage this issue using over-the-counter pain relievers or gargling with a warm, salt water solution. If your pain isn't subsiding, it might be indicative of a serious problem that necessitates treatment.
Orthodontic emergencies in Glenpool might be a rare occurrence, but they can still potentially happen at any time and any place. That said, following these tips will greatly reduce the chances of you experiencing one and ensure your new smile is delivered right on schedule!
About the Author
Dr. Dalia Georgy earned her dental doctorate from the University of Oklahoma. She has undergone extensive specialty training for braces, Invisalign, and Myobrace treatment. Dr. Georgy is a member of the American Dental Association and the Academy of General Dentistry. If your child ever experiences an orthodontic emergency, she offers same-day appointments and utilizes all-digital technology for more accurate and comfortable treatment. Schedule an appointment on her website, but if it's an emergency, call (918) 201-1414.