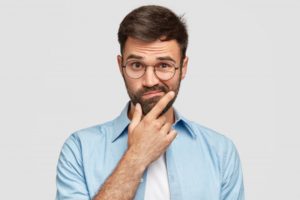 Everyone wants a beautiful smile with perfectly straight teeth, and with so many orthodontic treatment options in Glenpool, that's never been easier to achieve! However, getting a straighter smile is about much more than improving your appearance. Orthodontics can actually be used to address serious underlying issues, long-term problems, and even stop chronic pain! Read on to discover how getting a straighter smile could improve your health as well as your appearance.
Put a Stop to Teeth Grinding
Do you clench your jaw or grind your teeth in your sleep? This condition is called bruxism, and it can be very difficult to spot as a patient since it primarily happens at night. Unfortunately, bruxism can severely wear down the teeth over time, causing them to break and crack.
Researchers have identified a few factors that can trigger unconscious teeth grinding, including a misaligned bite. As you sleep, your body constantly adjusts and tries to force your upper and lower jaws to come together properly, resulting in grinding and clenching. Fortunately, bite issues are one of the most common problems that orthodontics can fix! Rebalancing the bite will allow your mouth to close comfortably as you sleep, which will naturally stop the unconscious movements that cause bruxism.
Halt Chronic Jaw Pain & Headaches
Bite problems can lead to more than an uneven facial appearance and nightly teeth grinding. If your jaws don't come together properly, your temporomandibular joint (TMJ) will become strained and overworked. The soreness and inflammation around the jaw joint can cause serious jaw pain, and can even transfer to the nearby muscles to cause neck pain and headaches.
Similar to addressing bruxism, orthodontic treatment may be the key to addressing the root of your chronic pain. As your bite problem is resolved and your jaws come together harmoniously, the extra stress in your TMJ will naturally dissipate.
Sleep Easier & Address Sleep Apnea
Snoring can be much more than just obnoxious for your sleeping partner! It's often caused by sleep apnea, when the upper airway becomes restricted or blocked and prevents you from breathing properly throughout the night. Sleep apnea can wake a person up hundreds of times in a single night, and studies have linked inadequate sleep to an increased risk of heart disease, memory issues, and even death.
Depending on the case, orthodontic treatment may be able to help a patient with sleep apnea in several different ways. Once again, by realigning the bite into a healthier position, more space is created in the back of the mouth for easier breathing. In other cases, the hard palate of the mouth can be widened to clear the airway.
As you can see, orthodontic treatment offers much more than just a pretty smile. If you suffer from any of the issues outlined above, don't wait to visit your orthodontist for a consultation. Orthodontics may be the best way to help you achieve a more beautiful smile and a healthier body!
About the Practice
At Glenpool Orthodontics, we're proud to offer reliable and lasting smile improvements for patients of all ages. Whether you're looking to get a straighter smile or address an underlying health issue, we can create a custom orthodontic treatment that will help you achieve the results you're looking for. To learn more about our services for children, teenagers, and adults, we invite you to reach us online or at (918) 201-1414.