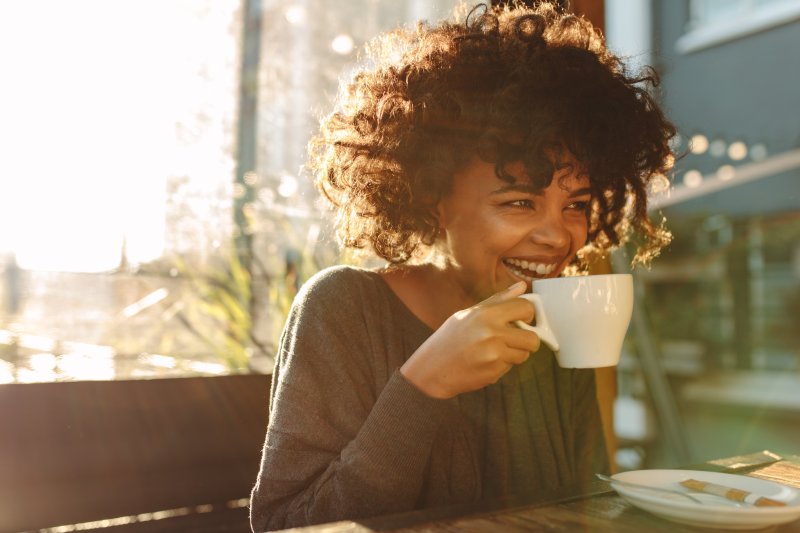 You finally did it! After debating whether or not you should start Invisalign treatment, you bit the bullet and are now wearing the clear aligners. However, you may be wondering if your orthodontic treatment will interfere with your morning cup of joe. Well, you'll be happy to know that you don't have to give up drinking coffee just because you wear Invisalign! Read on to learn why you should take your aligners out before drinking coffee and a few tips to keep in mind during your treatment.
What Happens If You Drink Coffee with Invisalign?
When you first got your aligners, your orthodontist likely told you not to drink anything but water while your trays are in your mouth. Here's what can happen if you choose to drink coffee while wearing Invisalign:
Staining and Discoloration
If you drink anything other than water, your clear aligners could eventually have stains or discoloration. Over time, they'll become visible to others. Your teeth are also susceptible to staining because the coffee can become trapped between the trays and your pearly whites.
Increased Risk of Decay
Do you put cream and sugar in your coffee? Most people do. In addition to that, coffee is already acidic enough by itself. All of those elements combined means drinking coffee while wearing your plastic trays can increase your risk of decay.
Warped Trays
The clear aligners are made of a heat-sensitive plastic material. Because of that, drinking a hot cup of joe (or any hot beverage) can easily warp the trays. As a result, they can become damaged and lead to issues with your treatment.
Tips for Coffee-Lovers with Invisalign
Don't worry – you don't have to forego your morning cup of coffee just because you're undergoing Invisalign treatment! All you have to do is make a few minor adjustments. Here are some tips to keep in mind:
Remove your aligners before drinking coffee. Make sure you store them in their designated carrying case to lower the risk of loss or damage.
Quickly finish your drink. Sipping on coffee for an hour or two is not an option with Invisalign because you have to wear your trays for a certain amount of time. Instead, try and finish your drink within 15-30 minutes. The faster you drink it, the sooner you can put your aligners back in.
Reduce or eliminate cream and sugar. Doing so will help lower your risk of cavities and bacteria growth on your trays.
Clean your teeth after you're done. Brush or rinse your teeth after you're done to wash away any residual particles. Don't forget to rinse off your trays before putting them back in your mouth!
As you can see, there are ways you can safely enjoy your daily cup of joe while undergoing Invisalign treatment. Simply follow the tips outlined above!
About the Practice
At Glenpool Braces, we're passionate about helping patients of all ages achieve their healthiest, most beautiful smiles. Our team enjoys educating patients to help them make confident and informed decisions for their oral health. For more Invisalign tips, visit our website or call (918) 201-1414.