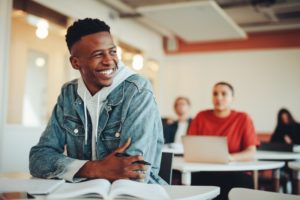 As summertime winds down, many kids are getting ready to head back to the classroom. However, if your teenager started Invisalign over the summer break, you may be worried about how well they'll stick to their treatment plan during school. After all, you don't want them to get off track and end up increasing the length and cost of their new smile! Here are a few easy and practical tips for your teenager with Invisalign in Glenpool as they start their next schoolyear.
1.) Just Say No to Napkins
Teenagers are always on the move, especially around lunchtime. As such, they may be tempted to skip storing their Invisalign in the dedicated case in favor of a napkin. Unfortunately, no matter how responsible your teenager is, this is a recipe for disaster! It is far to easy to forget or not see the clear aligners on a napkin, which means they're much more likely to be thrown out. Encourage your teen to keep their storage case somewhere convenient so they'll be more likely to use it.
2.) Travel-Sized Products for Your On-the-Go Teen
It's essential that your teen brushes regularly throughout the day, especially after eating or taking their aligners out. However, this won't be as simple now that they're at school and away from their toothbrush at home. That's why you should send them to school with a travel-sized toothbrush (and toothpaste!) so they'll have everything they need on the go.
3.) Pack Soft Foods for Tough Days
Invisalign is much more comfortable than traditional metal braces, but it's likely your teen will still experience some soreness after starting a new set of aligners. On these days, make sure to pack them soft, nutritious foods instead of hard or crunchy options. The last thing they need is to be distracted during class because of new aligner discomfort!
4.) Get a New Water Bottle to Stay Hydrated & Healthy
The only thing your teen should eat or drink while wearing their aligners is water, as anything else could stain them. Now that they'll be away from the kitchen all day, encourage them to drink plenty of water while they're at school. This will also help them resist the urge to snack with their aligners in! One good way to do this is to invest in a new cool water bottle!
5.) Watch Them Start to Become a Responsible Adult
The teenage years are all about learning responsibility and individuality. Invisalign aligners come with a lot of freedom since they're removeable, but they also come with a lot of responsibility. Once they're off at school, it'll be up to them to make sure they meet their 20-22 hour wear time. As stressful as this may sound to you as a parent, now is the perfect time for them to learn how to be the responsible adult you know they'll be one day.
Invisalign is a great choice for teens headed back to school! You can help them stay on track with these five practical tips.
About the Practice
Dr. Dalia Georgy of Glenpool braces is proud to offer personalized orthodontic treatments for smiles of all Dr. Dalia Georgy of Glenpool braces is proud to offer personalized orthodontic treatments for smiles of all ages. She has completed over 200 credits of continuing education and has undergone extensive specialty training in topics like Invisalign. As a mother herself, she understands just how important great oral health early and life can be, which is why she goes above and beyond to work with both children and their parents alike during a treatment. To learn more, she can be contacted online or at (918) 216-1000.