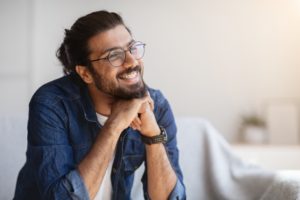 Maybe you aren't a teenager or even a twenty-something, but you are still interested in straightening your teeth. You should know that it's never too late to make that improvement. Getting braces as an adult is not complicated and certainly not impossible. To help you feel confident in your decision, keep reading as your dentist in Glenpool discusses some benefits traditional braces can provide to help you achieve positive change!
Elevate Your Oral Health
The issues that people generally associate with misalignment are purely about physical appearance. However, there is more to it than that. People who have teeth that are not lined up correctly are more likely to experience tooth decay and gum disease because it is more difficult for them to perform effective cleanings. When more food debris, plaque, and bacteria get left behind, there is a higher risk of cavities and other trouble.
1-2 Years for a Lifetime Change
Some people see braces as a long-term commitment. However, this isn't usually the case. The length of your treatment will depend on several factors, but most people can expect to have them for 14-26 months. Look at it as 1-2 years in exchange for decades sporting a winning smile.
Worth the Effort
Upon completion of treatment with braces, many people say that their improved smile makes them appear to be more vibrant, reliable, and positive. After all, have you ever met someone who regretted the results they got with braces? By taking a bit of time now to invest in your future, you will be glad you did it.
Never Underestimate a Confidence Boost
Confidence plays a huge role in your life, as you know. You portray yourself differently to the world when you feel great about how you look. If you are lacking in this department, you could find yourself avoiding eye contact and participating in certain activities.
Ultimately, it could hold you back in the workplace, in the dating scene, or in your social life. Instead, ensure that more people will see you as outgoing, friendly, and attractive!
At first glance, getting braces as an adult may seem daunting. But once you consider the benefits, it's going to be a net positive for you. The earlier you get started, the sooner you finish up!
About the Author
Dr. Dalia Georgy earned her dental doctorate from the University of Oklahoma. She has undergone extensive specialty training for braces, Invisalign, and Myobrace treatment. Dr. Georgy is a member of the American Dental Association and the Academy of General Dentistry. If you are interested in traditional braces, she is ready to help patients of all ages while offering affordable payment plans and accepting dental insurance. Schedule a consultation on her website or call (918) 201-1414.