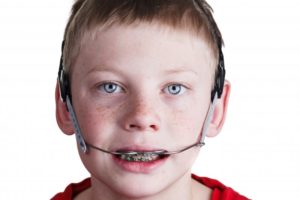 If you're like millions of Americans, you've probably received orthodontics to straighten your teeth for a more beautiful and healthier smile. Braces have always been the most common solution, and modern technology also makes clear braces like Invisalign an option. However, you may have seen additional, complex orthodontic devices like headgear. This treatment is more obtrusive and obvious in appearance than braces, so is it really necessary? Keep reading to find out why orthodontic headgear in Glenpool may be vital for you or a loved one.
First, What is Orthodontic Headgear?
Headgear is the common term for orthodontic appliances that extend past the mouth to help align your smile. While there are different types of orthodontic headgear, they all work to move the teeth into their correct positions. By applying slight pressure to the teeth with orthodontics supported by headgear, the shape of the jaw will slowly conform to the ideal position. The result is a beautifully straight set of teeth as well as an aligned bite.
When is Headgear Necessary?
Usually, headgear is necessary for moderate to severe orthodontic issues that cannot be corrected with traditional braces in Glenpool alone. Serious bite problems or misalignment may require certain movements that can't be achieved without headgear. For example, if you have a large gap in your smile, you may need some teeth moved forward while others are shifted back. Without headgear serving as a solid anchor, this could cause bite misalignment in the future. In some cases, back teeth need to be moved forward. Braces attached to the back molars won't be able to achieve this, which is why you may need orthodontic headgear to provide an anchor in the front of your mouth.
The Benefits of Orthodontic Headgear
While orthodontic headgear may not be a crowd favorite fashion accessory, these appliances do have undeniable benefits, including:
Results: Primarily, orthodontic headgear provides amazing results that you or your child may not be able to get with any other treatment.
Treatment time: Enjoy a shorter treatment process for issues that may otherwise require additional time or surgery.
Convenience: Many headgear options are designed to be removeable, allowing patients to wear their orthodontic appliance for the necessary time while still being able to take it off. In fact, most headgear only needs to be worn to bed!
Are you or a family member ready to get started on the straight smile you deserve? There's no need to be intimidated of the treatment process or worry if it calls for orthodontic headgear. Contact your orthodontic expert in Glenpool so you or a loved one can achieve your dream smile.
Meet the Dentist
Dr. Dalia Georgy is committed to offering high quality orthodontics for patients of all ages at the same convenient location. She is experienced in providing a wide range of orthodontic services, including orthodontic headgear, and she has completed over 200 hours of continuing education courses. If you have any questions or would like to schedule an appointment, she can be contacted through her website or by phone at (918) 201-1414.